By Charlotte Lowrie
Every photographer and creative person I know goes through times when the creative well runs dry. During times like this, it seems that every picture looks forced and uninspired. Photography reflects the photographer's emotional state of mind, and the emotional state of mind affects the ability to create unique images. In short, our work depends on being inspired, excited, and engaged.
Getting inspired, excited, and re-engaged creatively may simply be a matter of waiting and being patient. Other times, something as simple comment will be what we need to get back on track. For example, during a recent creativeLIVE course, Vicki Taufer's comment, "If you don't love what you're doing, change it," was enough to move me off dead-center and consider new directions in my photography that can change everything.
Here are some techniques that you can try when you need to recharge your creativity.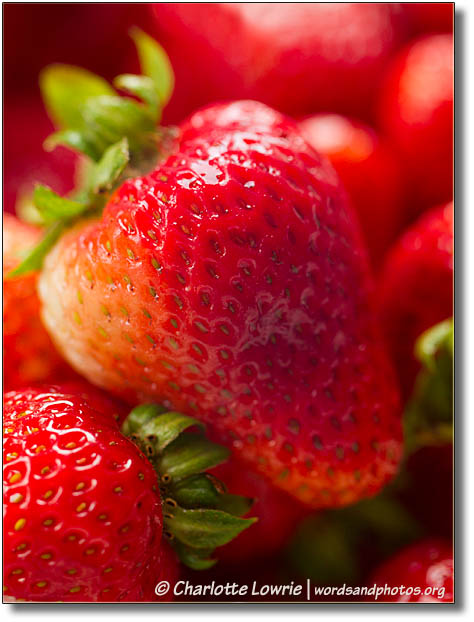 Study nature.

There is nothing more creative than God's creation, and, for me, God is the ultimate inspiration. Simply paying close attention to how the sky is painted, how plants emerge from the seed and ground, or studying the design of a strawberry can reignite your creativity. Mimic nature's design as you compose images and as you choose color palettes.



Stop shooting.

Take a vacation where you stop worrying about shooting. If you can afford the break, then put the camera out of sight for a few days, weeks, or for a month. A vacation from shooting is a good way to rest and release whatever is blocking creativity. By the time you pick up the camera again, it should feel new and exciting. You may need a few days to get back in the groove of shooting, but even that time can produce some creative shots from your new perspective.



Shoot subjects you would normally reject.

This technique has helped turn around long stretches of low creativity for me. By pointing the lens at a subject that doesn't initially catch your eye, you're challenging your creative muscles to find something visually interesting in the scene. Broadening your range in this way can pay off with exciting new images for your portfolio. Expand this technique to including shooting in lousy weather and challenging light. Keep an open, creative mind during this time. If you let your logical mind take over, you'll talk yourself out of searching for new shots, and you'll stay stuck where you are.



Explore the other arts.

Artists inspire other artists, so tap into the huge repository of inspiration in books, arts, architecture, poetry, and movies that are waiting for you. When I read a book, watch a movie, or visit a gallery, I'm reminded that most art is the art of telling a story. And telling a story is the single best way to create images that viewers remember for a long time. Finding the story to tell is a wonderful creative challenge as well.



Get out of your comfort zone.

Take up a musical instrument. Try painting. Shoot video instead of stills. If you're a portrait photographer, do a personal project on industry in your area, or architecture, or nature. As Twyla Tharp says in her seminal book, The Creative Habit: Learn It and Use It for Life, "Venturing out of your comfort zone may be dangerous, yet you do it anyway because our ability to grow is directly proportional to an ability to entertain the uncomfortable."



Take a course.

At the beginning of a photography career, learning is the entry ticket into the profession. Thankfully, there is no end to learning, and taking courses gives helps fill the creativity well with inspiration as well as technical expertise, both of which are foundational for photography. There are a variety of course choices, and I recommend BetterPhoto.com watching the creativeLIVE.com courses, or taking a workshop with a photographer you admire. I also encourage you to attend conferences for your photographic area such as Wedding and Portrait Photographers (WPPI), PhotoExpo, and others.



Keep an inspiration box or book.

A designer that I admire introduced me to the idea of a treasure box. In his box, he kept clippings of anything that inspired him, bits of fabric with intriguing patterns and textures, leaves, well-worn coins he found on the street, feathers, rocks, along with poems and other writings. My inspiration box is a vintage cigar box that this designer gave me more than 20 years ago. And I add to it still. Of course, the box or book is an especially useful resource during times of low-creativity. You can take pieces and combine them or simply study them to see what ideas they give you.You can take pieces and combine them or simply study them to see what ideas they give you.
Whether you are dealing with a creative block or a slow-down, I look at low-creativity times as a doorway to change. Often the lack of creativity means that I've gotten in a rut, and I've grown tired of my current work. Other times, low creativity means that I'm tired. I accept that, and relish the time away from shooting as good recharge time. If the slowdown occurs during a deadline project, then I give the project my best, and work on recharging techniques as I have time.
Finally I believe that the more we fight a lack of creativity, the longer it is before we are fully recharged and creating again. So perhaps the best advice is to embrace the slow downs and welcome the change that it will bring to our work.
Also be sure to check out my book, the Canon EOS 5D Mark III Digital Field Guide
.

Related articles:
Reenergize Your Photography
Successful Images Tell a Story
Canon EOS 5D Mark III Tips